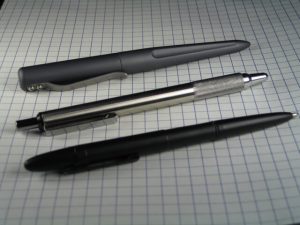 The Mil-Tac TDP-1 Tactical Defense Pen is a classic that is suitable for a tactical pen novice or experienced collector. It offers the perfect mixture of form and function and is already a favorite with tactical pen and other weapon collectors. Created specifically for law enforcement and military personnel, the TDP-1 offers an aircraft grade body constructed of aluminum with type 3 anodizing to combine sturdiness with style seamlessly.
The TDP-1 is not just robust and distinctive, but functional as well, with a long list of in-demand features and specifications including:
• Designed by Allen Elishewitz, internationally renowned weapon designer
• Stainless steel pocket clip
• Stainless steel fittings
• Aircraft grade materials
• Type 3 anodized finish
• 5.25 inches long
• 1.2 ounces weight
• 0.450-inch thickness
• Many models and finishes under $100
As a pen, the TDP-1 shines. The twist on cap ensures that the writing tool is easily accessible while preventing accidental ink spillage and staining. Multiple finishes are available to suit almost any sense of style, and the pen can be filled with the customer's choice of blue or black ink. This pen offers a distinctive statement that can be used in any context, as well as smooth, fluid writing with a superior grip.
While the TDP-1 is a unique writing tool, it is also a useful and versatile weapon. One end is pointed for extreme self-defense, while the other end is blunt and can be used as a tool. This allows the pen to be used as a weapon, a tool, and a writing implement according to the owner's needs.
This tactical pen also has collector's value, due to its high quality, timeless design, and famous maker. This item has been designed by Allen Elishewitz, a world-renowned designer and knife maker with a lifetime of experience in the military and martial arts.
The Mil-Tac TDP-1 is also a stylish accessory that will never go out of style. While a well-made writing tool is always a fashion statement, the TDP-1 is designed to be timeless and distinctive. Choose a bright red metallic finish to stand out, or a smooth, sleek gray to blend in. This attractive and well-designed tool is designed to be used as a pen or weapon, making it a must-have for the gentleman who is concerned about both style and security.