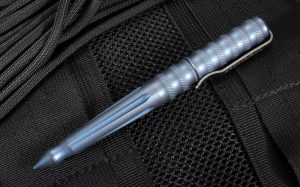 Benchmade is a premium knife, tomahawk, and tactical pen manufacturer with their brand renowned for their high-quality products in the EDC focused group out there. Over here we are going to focus on their tactical pens.
Benchmade offers some different pens in their tactical pen series. Unfortunately, the rest of the line has been discontinued and the whole ones still being manufactured and sold today is the model I am reviewing today, which is the Benchmade 1100 series Tactical Pen. This particular model is available in an Anodized aluminum body and a titanium body. The aluminum body is available in different colors including charcoal, red, pink, stainless steel and gold. For those of you who want to go the more extreme route can check out the Damastell version of this pen, model 1100-13. What is different about this is that the cap and barrel both have a scalloped ring contour with gently checked risers.
This pen reminds of a cross between a sword and a medieval dagger giving it a unique look. This was precisely what Benchmade was looking to achieve with their slogan for this pen being "These Pens are mightier than the sword."
>>Click Here to See Pricing, Ratings and Reviews on Amazon.com >>
It might look like the pen tip comes out from the pointy end but it actually on the opposite end. The pointy end is the one that you will use to defend yourself when push comes to shove. Don't you think that pointy end looks quite Old-World? I like that look.
In a little mythbuster style test I went on to test how much damage can you inflict with this tactical pen. On Mythbusters, they use whole pig carcasses to emulate human tissue density, but for me, that is a little hard to come by. I went to my local Costco to pick up a pork roast. With very little force the Benchmade tactical pen went smoothly through the pig roast. I was able to inflict serious harm to the poor (former) pig. Imagine attacking someone with this. You can see what was left of the pig yourself. Mind you I am not condoning that you kill someone with this use it to defend.
At 3.20z this pen comes out to be a little heavier compared to the other pens I have reviewed. However, this heft means that it is not just going to fly out of your hands while you are using it.
The grip on this pen is excellent with an ergonomic knurling pattern with a crisscross texturing onto those ridges on the cap and middle part of the pen. This gives the pen a comfortable grip when writing and when holding it in a self-defense grip.
The clip on this pen is as sturdy as the other parts of the pen, and it is a deep carry clip. It will hold the pen down wherever you clip it. It uses a Fisher Space Ink cartridge like the Gerber impromptu pen I reviewed previously. This ink is hands down one of the smoothest ink cartridges I have ever used.
In conclusion, I would recommend this pen but at around $200 it is going to make you a cough and sputter, but it is well worth the price because you are going to get a quality product made by an experienced company. You can check it out here on amazon.com.