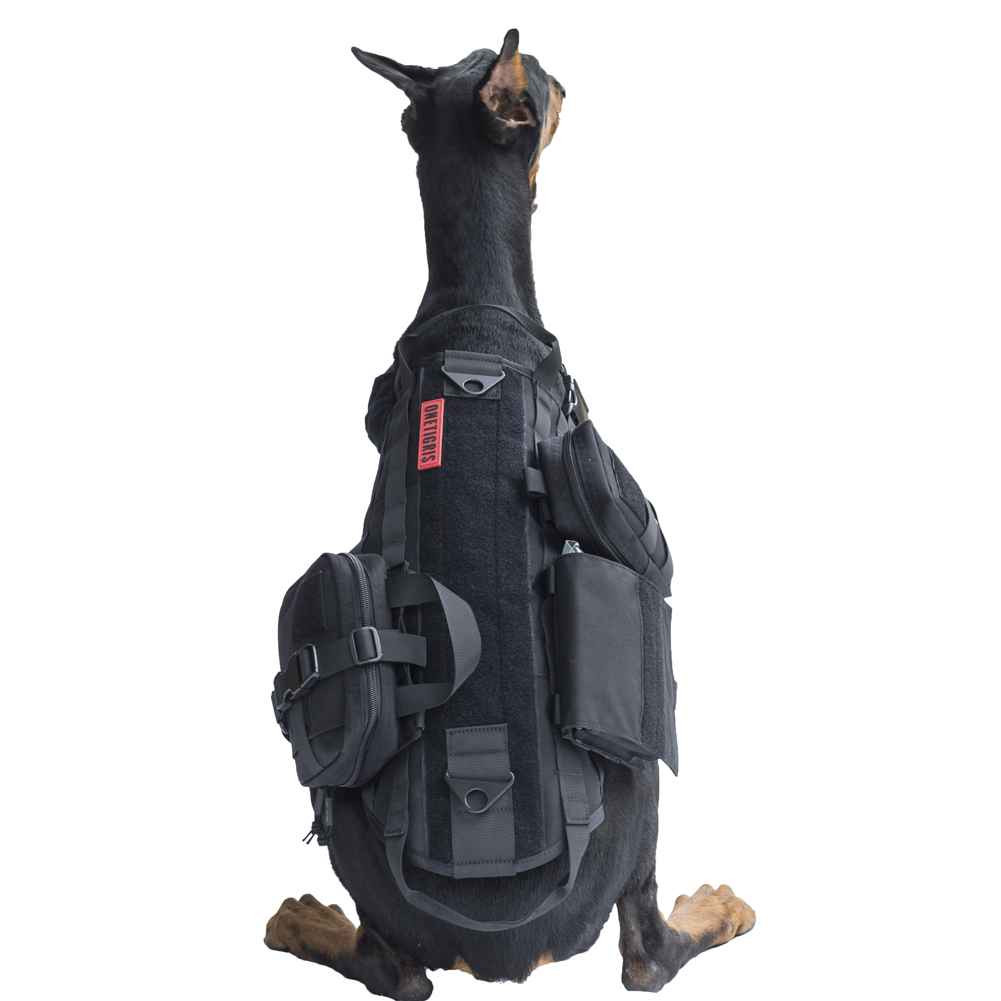 You are geared out in your tactical gear. You go out hiking, camping, hunting. So then why leave your canine companion out? They should have just as much as fun as you do.
Your four-legged furry animal should not be left out and they deserve the most comfortable tactical dog harness for you and them. Tactical harnesses will provide ultimate comfort, movement control and most important characteristic: UTILITY.
The best tactical vests for your dog has to be made of the highest quality military material with quality, strength and versatility to make a seamless bond between you and your dog . Anything else would be absolute blasphemy. The feature set for these include D-rings for leashes, a top handle, tag attachments, MOLE attachments and side pockets. WAIT, hold up a minute. Who am I kidding. Why would you want a tactical dog vest without any side pockets. Who is gonna hold all those extra utility edc items you have .. wink wink ?
Your dog is part of the family so might as well make a good investment and take the time to purchase a quality tactical dog harness vest that will last for years to come. I hope to help you with that and have made the ultimate guide to tactical dog vests.
Summary of our findings (Detailed reviews below) :
Best Tactical Dog Vest 2018: OneTigris Tactical Dog Molle Vest Harness
Best Quarter-sized Tactical Dog Vest: Cynology War Labs Quarter Dog Vest Harness
Best Budget Tactical Vest: OneTigris Tactical Service Dog Vest
Best High-End Tactical Vest: OneTigris Tactical Dog MOLLE Vest Harness
What is a Tactical Dog Vest ?
A tactical dog vest or harness is different from a regular dog vest because it is targeted specifically to people who are require some extra tactical features. It provides an extra layer of protection that is needed to keep your companion extra safe. If you encounter terrain where it is particularly difficult for your pet to cross or traverse through then you can use the handle that is provided with most tactical dog vests to help them out.
There are TWO major sizes of tactical dog vests: Full Size and Quarter Size Tactical Vest. The full size tactical vest has a lot of the features you would expect from a tactical vest but the quarter size tactical vest gives some protection and is not able to carry as much attachments but has some places to add tactical patches.The smaller tactical vest would also work well as a small dog tactical vest.
What makes the Vest Tactical?
The vests are designed with the idea these vests will be put in tough situations and it will used often so they are generally of higher quality compared to other dog vests. Like a K-9 dog vest. These vests are also made in more darker colors like black or other shades of military green making it matching with the other tactical gear you probably have.
Compared to using a lease, you can have safer and better control of your dog if they get violent in public because of the thick handle that is located on the body of the dog. Allowing to hold your dog down.
The full-size tactical vest covers a huge part of the body and in doing so it protects the body of the dog. If you are in a highly shruberized area then then it can protect the dog from injure from branches or even thorns.
In addition, the tactical dog vest supports Modular Lightweight Load-carrying Equipment (MOLE). This is very important because this means that the vest would be instantly compatible with other compatible attachments you might have bought for your other military gear like some of the tactical backpack attachments.
Which kind of Dogs is this perfect for ?
The general reasons I stated above are reason alone to get your dog a tactical harness but if that still does not let you know if it applies for you reason. I will break down for various dogs and what kind of reasons it would be worth to get a dog tactical vest for.
Service Dogs – A service dog would be able to hold medical supplies or any other supplies or necessities that are required by its handler making it perfect for a service dog tactical vest.
Police and Working Dogs – Police dogs are able to make use of the extra protection that vests offer and are able to hold extra tactical gear that may be required by a police officer.
Hunting Dogs – Hunting dogs would be able to be more camouflage the same way you would wear your camouflage clothes and at the same time they will be able to carry any extra bait or small tools you would need.
Outdoor Companion Dogs – Outdoor companion dogs would be protected from shrubbery. It would also be used as a sort of training exercise because of the additional weight of the vest.
Features to look for in a Tactical Dog Vest
Now we come to some of the most important questions. After my through research and comparison of a multitude of tactical dog vests I have broken it down into the most interesting features that you should look out for when choosing a tactical dog harness you would interested to purchase.
Materials – The highest quality materials are made up of high quality Nylon. This would be categorized by Nylon that is Cordura 1000D so make sure you check the label for this. Anything lower than this quality range will be of a lower quality and will not be worth it.
Weight – Of course you don't want to tire your pup out and so you don't want the weight itself weighing a lot before you even add any weight to the vest. There is still a compromise to make by not having too lightweight of a vest such that it cannot be strong enough and tear easily. Older dogs might be able to carry as much weight as a younger more fit do and so please do keep that into consideration for the health of your dog.
Durability – Different dogs will be in different environments and the strength of vest would cary appropriately. Police dogs would need a lighter yet durable vest versus a companion dog would not to be as durable.
Handle – Having a handle is extremely useful in helping your dog in treacherous situations and just general control of the dog.Again with this it would be really BAD if the handle breaks while you are holding your dog. Hence, it is important for this point of extreme stress to be engineered well.
Useful Extra Features – The good tactical vests have lots of extra pockets and MOLLE attachments. The fancier vests will have attachments are detachable and not fixed allowing you to be able to control the weight of the vest.
For a lot of these points I mentioned, I have of course done my best in reviewing these tactical dog vests but the reviews of all these dog vests provide an aggregate of reviews from lots of people allowing them to catch things I might have missed so I have made the customer reviews easily accessible.