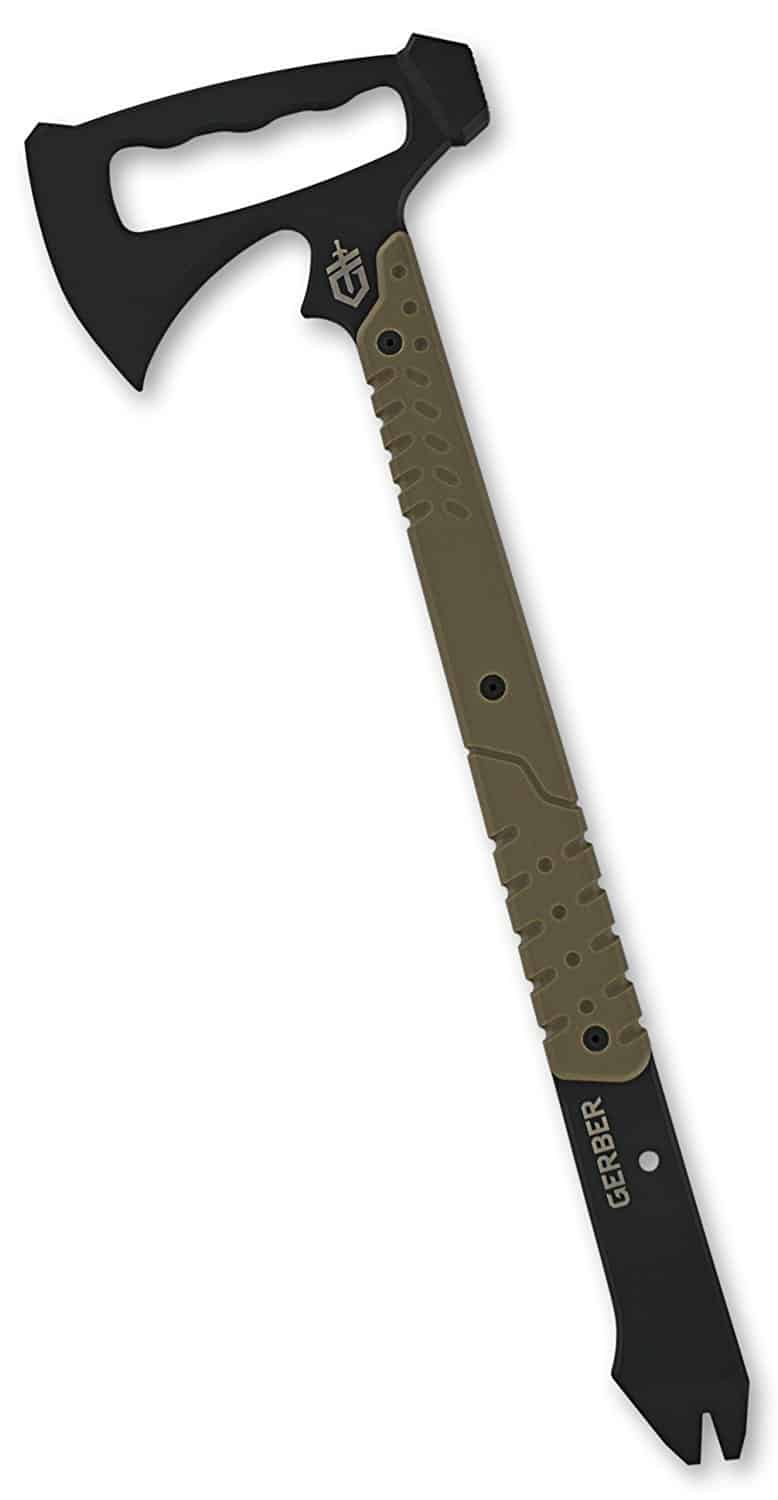 Tomahawks were first used by the Native Americans as a hunting tool and to chop wood but now days we have a different purpose for our tomahawks. We use it to accomplish many different tasks like using it as a self-defense tool,combat tool, setting up a camp and how can I forget – slash some zombie heads off.Just Kidding! On a more serious note,it is commonly used by the military in Iraq and Afghanistan where it is a required object in a combatant's arsenal of weapons where it is used both as a tool and as a weapon. However, finding the perfect tomahawk is tough, so we have put together this resource-a one stop-shop, all-inclusive guide dedicated to helping you to find the best tomahawk for yourself.
What is a tactical tomahawk?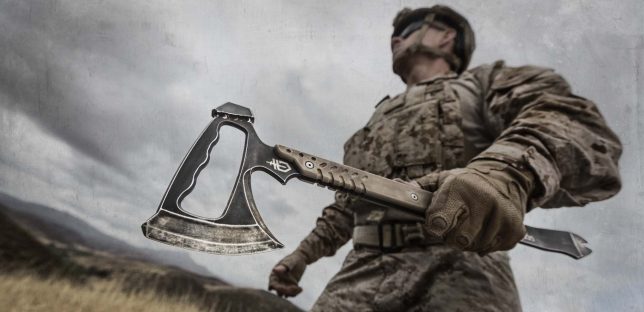 The word "tomahawk" was actually derived from the Algonquian word "otomahuk" which meant "to knock down". The tomahawk was originally used by Native Americans as a weapon and a tool. You might be thinking what is the difference between a tomahawk and other similar tools like a hatchet or an axe. To end this confusion I will tell you what a tomahawk is.The tomahawk is in the axe family and has two or more functions while a hatchet or axe has one. The blade side of the tomahawk is used for cutting or chopping. The other side of the tomahawk which is the butt or poll is typically used for breaking, impaling or breaching.
The tomahawk became tactical during the Vietnam War era when Peter LaGana introduced the tactical tomahawk to the US Army and started selling it to them. For the U.S. military this tool had many features and benefits and to this day it is still used by the military. This goes to show how valuable a tomahawk can be. Now days Tomahawks are more popularly used in axe throwing competitions more than in self-defense. In the past tomahawks for used as the ultimate tool of the mountains for its ability to chop wood, hunt and for protection. Today tomahawks are used in a more different style, for recreational purposes.
Types of Tomahawks
Tactical Tomahawk
A tactical tomahawk is built for particular actions with a specific end. This is the tomahawk version that is used by the military as a multipurpose tool. These include breaking doors, smashing windows, breaking locks, opening crates and hand to hand combat.
Throwing Tomahawk
We have all see it in a movie. A mountain man or a native Indian takes a down a man by throwing a tomahawk in the air and sticking it in the enemy's back. All jokes aside there are many serious competitions all over the world where people compete to see who can precisely strike their tomahawk targets. These tomahawks are optimized to be thrown instead of for other purposes like smashing a window or deflating a tire.
Combat Tomahawk
A tomahawk designed for combat is not that different from a tactical or throwing tomahawk except that these tomahawks have been developed specifically for use in fighting and military operations. The main difference is that combat tomahawks are lighter because of the need to swing the tomahawk with relative ease and to make it easier to carry around all the time.
Features to Look out for When Choosing a Tactical Tomahawk
The best way to go about analyzing a tomahawk you want to buy would be to go about looking at how the tomahawk fares in each of the characteristics listed below.
Head Shape Design
The shape of the tomahawk head would be different depending on how you want to use your tomahawk. If you want a more precision cutting tool, then you would look for a tomahawk that has a sharper narrower head. If you want both a hammering and cutting tool combination, some tomahawks have both a blunt and more sharpened end for both of these purposes. However, this style of design is less common and harder to find.
Head Steel
The steel of the head determines the exact properties of the tomahawk and what it would ultimately be capable of. Repeated use with targeted forced applied often will take a toll on any material. It needs to withstand the constant hacking, chipping and thrashing that you apply to the tomahawk while maintaining its integrity. Tomahawks are commonly made up of high carbon steels like SK5, 1095 and 1055. These steel types are more durable than its counterparts 420HC or AUS8 steel types. To find this detail you have to go to the original manufacturer listing because other sites tend not to make this information easily accessible.
High carbon steel is essential for the durability it offers, but it is more prone to corrosion compared to other steel varieties. This means you have to take additional care to take care of the steel. My guide on taking care of your knife would apply to tomahawks as well. The hardness of a steel is determined by the industry-standard Rockwell Hardness C scale.
Handle Length
The length of the handle will affect what types of tasks it would be ideal to use it with. A throwing tomahawk would have a shorter handle so that the length of the handle does not have a significant impact on the throw thus messing it up.
A longer handle would be ideal in a dual-purpose chopping tomahawk to take advantage of the physics distance x force formula making it easier to chop. If you want to use a tomahawk in a more versatile situation and prefer more control, like if you need to free someone from wreckage then a short handle would provide more control.
A compromise to get the best of both worlds would be to get a handle that makes it easier to slide up and down and make you feel comfortable anywhere along the handle. This would then allow you to control how you to make it more efficient depending on what kind of task you are using it for.
Handle Material
Just as the material of the head is important so is the material of the handle. Traditionally wood has been used to make these handles, and that is because that was the most easily available material. However, nowadays with better manufacturing methods, we can get access to reinforced fiberglass or even certain types of steels can be used instead of wood.
Any plastic material should not even be considered if you plan on using your tomahawk outdoors a lot because that material is prone to degradation when exposed to sunlight. Wood has its own problems in that over time it tends to absorb moisture.
Weight
A heavier tomahawk gives you more power on your swing but it comes with the downside of making it more tiring to hold if you are planning to use it continuously. The heavier tomahawk is also harder to control and maneuver around, and if you are in a tactical situation, you would rather have a more maneuverable tomahawk. That is why tactical tomahawks are generally lighter weight.
Top 5 Tactical Tomahawks Reviewed
Honestly, most of the tomahawks included above are very good choices; but there are a few that we just need to point out as our favorites. Below you will find our top 5 candidates for overall best tomahawk along with a more detailed review of each tomahawk.
1. American Tomahawk VTAC Lagana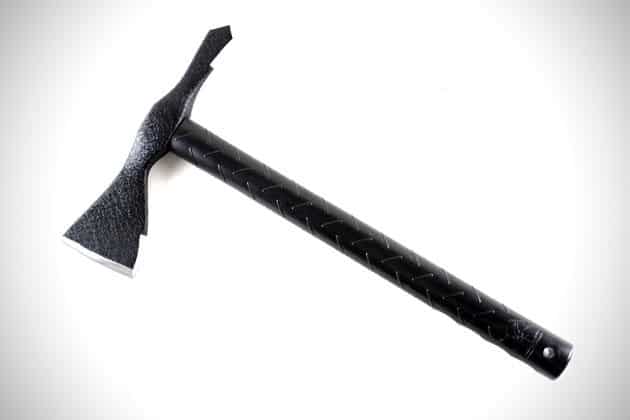 American Tomahawk VTAC Lagana
This Company started the "tomahawk" revolution lead by Peter LaGana who created the "Vietnam Tomawk" which has been subsequently used by the U.S. Military in all their major conflicts till now. It is the standard by which all other tomahawks are made by. It has been tested to the highest standards because of its more than 40 years of use. The blade is definitely very sharp and also stays that way for a long time. It was primary built to be a tactical/combat tomahawk hence it excels in heavy duty cutting tasks like cutting doors, windows seals, etc.
2. Smith and Wesson SW671 Extraction Tomahawk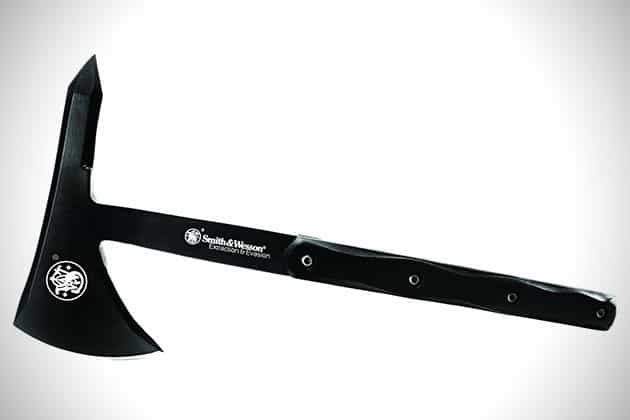 Smith and Wesson SW671 Extraction Tomahawk
This extraction tool is a formidable weapon that was designed with combat and tactical situations in mind. It is a full tang tomahawk with 1070 high-carbon steel with an overall length of 15.9 inches. It is 2.69lbs of sheer destruction with it's thick handle grips.
The tomahawk has removable handle grips that have a slight texture which in turn provides you with a secure grip. The handle is long enough to be used with a "two-handed" grip. It has a strong head that runs down all the way to the bottom of the grips.
In our testing it was super easy to break concrete blocks with the sharp edge, shave some wood and break pallets. If you want to tear something up this tomahawk is the perfect one.
3. Cold Steel Trench Hawk Axe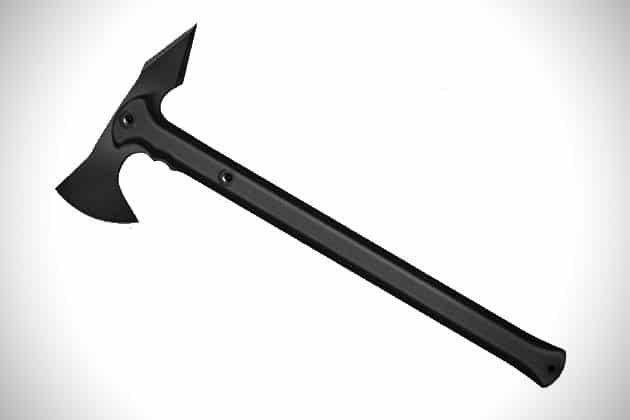 This tomahawk thrives when used in close range attacks that can occur in trenches, bunker, or in alley ways. The head is made of 1055 carbon steel with an overall weight of around 24oz. Testing the 1055 steal on something smaller like barbed wire the head steel seemed to be a little softer because of the problem easily breaking it. However, this means that re-sharpening it is way easier because of the steel.
The spike on this tomahawk is capable of breaking a hole straight through a cement block. It excels as a throwing tomahawk and hence the handle of the trench hawk is highly resistant to shock and impact. On the other hand it is less capable in cutting large pieces of wood, which means it is is not the best for bush-craft.
It works better in tactical situations. When used defensively, the tomahawk's spike and cutting edge can also provide a big advantage as it can be used to parry or block an incoming blow. Even though this is a larger than the standard throwing tomahawk, it worked surprisingly well when tested as a throwing tomahawk.
4. Gerber 30-000792 Downrange Tomahawk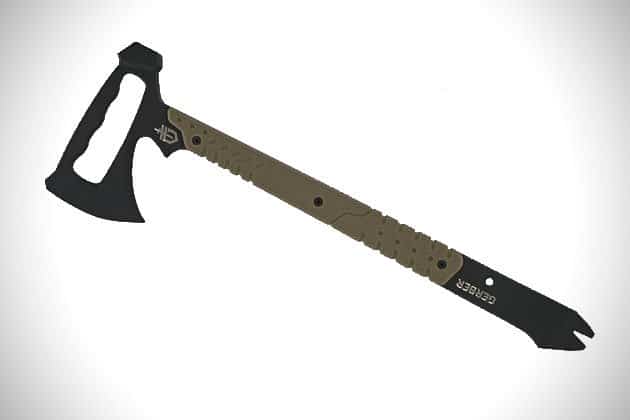 Gerber 30-000792 Downrange Tomahawk
The Downrange tomahawk is a modern take on the old Vietnam tomahawk .At first glance it looks completely different than the tomahawks you are used to seeing with its hollow head but it is still just as effective.This tomahawk is more on the expensive side but make no mistake it is definitely well worth the price. It is a full-tang tomahawk with 420 high-carbon steel with G-10 handles that are pretty thick.
Interestingly, the axe head does not come sharpened. That is because it was primarily designed to be used as a breaching device. Specifically, It was designed to tackle three different breaching tasks. The axe head cuts through walls and rope while the hammer head side is perfect for smashing through obstacles you might come across on the field like hinges, locking devices and door knobs. The pry at the end of the tool can be used to pry using the cutaway handle in the axe head for leverage.
The tomahawk head is hollow so that it can be used as leverage when you want to pry . The sheath that comes with it can be used to soften to grip that allow you to use the hollow part to pry more easily. The bottom part of the sheet is MOLLE compatible making it super easy to attach to any of your tactical backpacks.
5. SOG F01TN-CP Tactical Tomahawk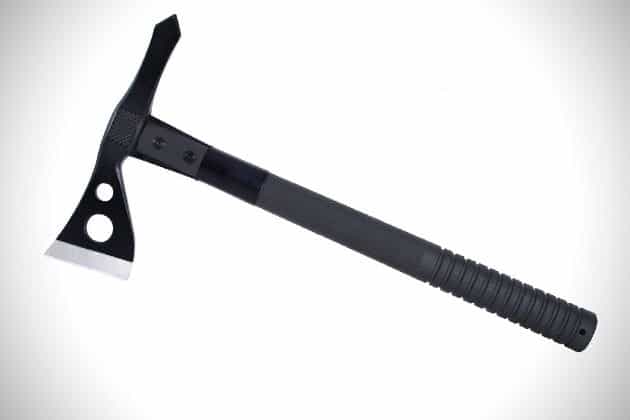 SOG Specialty Knives & Tools F01TN-CP
It is on the lower end of the spectrum but it excels at what it is: A budget friendly tomahawk.
The handle comes with a lanyard hole. The grip makes it hard to hold if your hands are slightly cold.The head is bolted to the handle with heavy duty bolts ensuring that the head will never be separated from the handle and steel ferrule for additional strength.
It comes with a nylon sheath that also has a belt loop. This is not MOLLE compatible but it does have holes on the sheath that you can use to attach it to your bug out bag.
What do you think is the top tactical tomahawk
Well now it is about what you think and not what I think anymore.You know what you want to use your tomahawk for and so only you can decide which one you want to buy.The difference is that you have seen all the options and learnt about the features of a Tomahawk which will enable you to make a more informed decision and allow you to purchase the best tactical tomahawk for you. As you know, new tomahawks are being created all the time by new and old manufacturers. For that reason, the comparison chart above will be updated when new,more superior tomahawks are available in the market. If you feel like we missed a superior tomahawk that needs to be included on the list then let us know in the comments below!