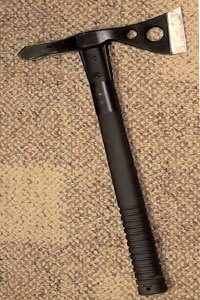 Pros: Excellent value for your money because you are getting a tomahawk that is close to the quality of high-end tomahawks for a more down to earth price. Very sharp head with a solid bolt to the handle which ensures that it does not break. Comfortable, durable handle to provide optimum grip. The nylon sheath included allows for the fast drawing of the tomahawk.
Cons: Weight distribution is a little off. It seems a bit heavier on the head when compared to the body but not so much to completely throw you off but still apparent enough to notice.
Click Here To Check Out to see the SOG F01TN-CP Tactical Tomahawk at Amazon.com! Huge Discount Available!
The brand behind the tomahawk
Let me first introduce you to the brand behind the ax. If you have ever researched anything about knives you would have heard of SOG: Strong, Innovative, Specialty Tools. Each SOG knife is created by their company founder and chief engineer, Spencer Frazer. They are recognized and favored by law enforcement, military and industrial customers that rely on their tools to perform in the most stringent and most adverse conditions.
Brief Introduction
Most modern tomahawks are based around the original Vietnam Tomahawk, and this one is no exception. The SOG F01T-N is a Tactical Tomahawk that is capable of completing some tasks including, excavation, breaching operations, obstacle removal and extraction missions. This makes it an especially useful tool for military and service personnel.
What about the tomahawk itself?
The SOG F01T-N has a head made of 420 stainless steel with a 2.75-inch edge. It is coated with a scratch-resistant, black oxide coating for reduced reflectivity. The head is bolted to a polymer handle with heavy-duty bolts, so don't worry that with abusive use there is a chance that the head flies out of the handle. To prevent the handle from splitting it is fitted with a steel ferrule and to ensure precise placement when pounding, it includes side hammer checkering.
Ergonomics
It also does not lack in the ergonomics department. If you don't feel comfortable holding your tomahawk then how will you have a chance to aim and target it precisely? That's why this ax features an ergonomic handle that tries to give you the best possible grip. To achieve this the handle is crafted from a tough, ballistic polymer which makes it slip free, durable and well balanced. Another vital factor to consider about a tomahawk is its weight because you don't want to be working with a massive tool that will tire you out after barely using it. Plus you don't want to be adding something else to your already heavy backpack of tools. The F01T-N comes in at 24 ounces, which makes it relatively lightweight.
So what's the bottom line?
It is a perfect starter tomahawk for someone new in this market, but that doesn't mean it performs at a beginner level. This tomahawk is performed excellent and is made of quality components by a reputable brand. The positive reviews support this fact. There is nothing to worry about because it even comes with a one year warranty.
Click Here To Check Out to see the SOG F01TN-CP Tactical Tomahawk at Amazon.com! Huge Discount Available!