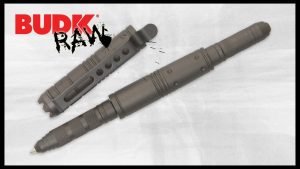 The BudK Crusher Black Tactical pen is a $20 self-defense pen that is made of aluminum and features an etched design, pocket clip, and charcoal gray color. It is designed with a pointed end at the bottom as well as an impact crown at the top for stunning. The following review will outline the benefits and downsides of this pen in comparison to the other tactical pen options available on the market.
>>Click Here to See Pricing, Ratings and Reviews on Amazon.com >>
One of the best features of this pen is the impact crown, which is indented to inflict wounds as well as catch your assailants DNA. This is a great benefit, especially
for such as a cheap pen, as you will not only be able to successfully defend yourself but also potentially catch your attackers using a DNA sample. To top it off, the pointed end is very sharp, increasing the effectiveness of this tactical pen as a self-defense weapon. The pocket clip is also very tight and secure, which is a big plus that improves the reliability of this product. Ultimately, the BudK Crusher is an excellent self-defense pen with plenty of upsides that make it a reliable weapon for those tight situations that require a proper self-defense weapon.
Despite the upsides mentioned above, there are a few features of this pen that bring down its inherent quality. For example, although the impact crown is very useful for self-defense, it can make day-to-day use of the pen somewhat cumbersome. The indents in the tip are quite sharp, which could lead to accidental cuts on your hand when retrieving it from your pocket. Additionally, the cap can come loose at times and become wobbly, which somewhat reduces its effectiveness as a weapon. You must make sure that the cap is tightly on at all times if you plan on using this tactical pen for self-defense. One final thing to mention is that the sharpness of the cap can make this pen somewhat difficult to grip, especially when writing.
The BudK Crusher Black Tactical Pen is a decent pen for the price. Not only does it come with an impact crown and a pointed end, but the crown comes with a DNA catcher, making this an ideal product to have on you if you happen to face an attacker. The combination of these three features is something not found often in tactical pens in the cheaper price range, which makes this a great buy despite its low effectiveness as a writing tool.