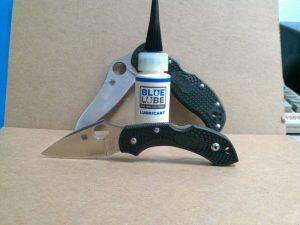 You have probably heard of the old saying "A dull knife is a dangerous knife". Well I would like to introduce you to "A dirty knife is a dangerous knife. "Exposure to gritty materials or salt water can lead to permanent damage of your blade. If you have a tactical folding knife then you have one more thing to worry about:Pocket Lint.
Pocket lint can affect the performance of the pivot and locking areas of your knife hence making the knife slower and more difficult to open. For these reasons, It is a good idea to perform regular maintenance on your knife.I normally clean and lubricate my knife at least once a month. This also gives you the opportunity to inspect the internals of your knife to make sure that there is no corrosion or loose screws which can prove to be very dangerous.
Step 1- Cleaning
You should start off with the removing the pocket lint on the pivot of the knife and the locking surfaces. To remove light pocket lint you could use a toothpick, screwdriver, or other probe to remove it.
Then it is on to washing the knife. Well first you can start out with the blade of the knife and work your way down to the pivot mechanism. If you have sand or grit on the blade then wash it with warm, soapy water using a bristle(an old toothbrush is a good choice).You are not limited to only the blade. Work your way down the knife and don't worry about wetting the internals of the knife. Once you rinse the knife properly you will have no problem.
If you knife still has grime or dirt stuck to it then you can try placing your knife in a bowl of warm water to try and loosen the grime. One word of caution is that if your knife is made of natural materials (wood, abalone, or mother-of-pearl) then you shouldn't leave your knife in boiling water for too long.After you take it out from the warm water you can trying the probing method to remove and final grime and then try washing it again.
This method should remove even the toughest of residue. Before moving on to the next step be sure to wipe the excess water off the knife and leave it to air dry for at least 15 minutes.
Note:Step 2 and Step 3  only apply if you have a folding knife.
Step 2 – Picking a Lubricant
Since your knife has a moving system it needs to be lubricated, especially the pivot, locking surfaces, or slides. There are different types of lubricants that you can use but the most popular one are petroleum based wet lubricants' would recommend you check out the Sentry Solutions Tuff Glide or Benchmade BlueLube.
You can also try out a dry lubricant with one benefit being that they attract less pocket lint ,meaning you have to clean your knife pivot mechanisms less. This typically come either as an aerosol can or as a grease tube, whcih will  dry on the surfaceof the  leaving a protective, lubricating film. Don't apply too much lubricant exactly at the pivot.. Now on to the last and final step.
Step 3 -Applying the lubricant
Try and remember this when applying the lubricant: "A little goes a long way. "Extend the knife and apply two drops of oil (or a light spray if using a dry lubricant) to your pivot and cycling the blade (opening and closing repeatedly) to work the lubricant in. With lockback or midblock knives, you will want to target the tang of the blade where it meets the lockbar. With liner locks such as the CRKT, you can apply your lubricant on the underside, again making sure to get the locking faces and working it into the pivot.
You are trying to use just enough lubricant to spread throughout the target area without letting it leak on to the handle or blade of the knife. Remember that if you use excessive wet lubricant then there will be more pocket lint attracted and that means you will have to clean your knife more often.You might also want to consider applying a preventative coat of lubricant on your blade itself. Wipe out all the excess oil and your knife is ready to go.