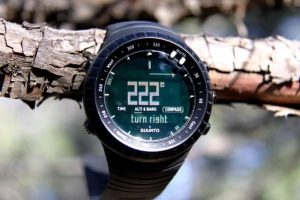 The Suunto Core has significant benefits but like anything also has disadvantages. One drawback to the Suunto Core is its display screen because it is pretty dim and becomes so makes it difficult to read at night. However, because it is powered by the CR2032 battery, the watch has long battery life. The Suunto Core includes more than the average watch with a compass, barometer and a weather indicator, which is designed to assist you with tracking potentially lousy weather conditions and locate where you are in the outdoors while hiking. It's sporty, it's smart, and it's packed with features, but has this outdoorsy watch from Suunto got the legs for navigation? While Lacking GPS, the Suunto Core immediately takes the path of smart sports watches – but remains a reliable, easy to use and highly accurate watch for skiers and hikers.
Areas where the Suunto Core excels
The Suunto Core Is Waterproof
The Suunto Core is an excellent choice for diving and snorkeling enthusiast alike because it is waterproof and so when you dive in the water with this watch, your watch will not be destroyed. This is also critical in those underwater military missions.
Affordably Priced
The Suunto Core watch could be found on the market for around $229 more or less. This watch may seem a little bit expensive for some people, it reasonably priced when you consider the features it has such as the compass, altimeter, and barometer as well as an alarm and timer, making it a totally waterproof and reasonably attractive military watch.
Advanced Military features
It includes a barometer which ties in with a storm alarm that warns of a sudden drop in air pressure. It is the final part of the Suunto Core's central Alti & Baro tab, with a compass on one side and time on the other. All these modes can be easily toggled, plus it is only a single button touch to lock to the current screen – a handy feature.
Areas where the Suunto Core falls behind
Lacks GPS Navigation
A significant drawback to the Suunto Core watch is that it does not  GPS navigation to assist with getting too specific areas while outdoors but with the built-in compass feature is not necessary since the compass works pretty well for getting around in the outdoors. The benefit of a compass compared to a GPS is that a compass will work even in areas where GPS satellites are not in sight.
The alarm sound is too low.
The base sound on the alarm is low, but with a little tweaking, the sound of the alarm can be increased to meet your needs unless of course, you are the kind of person who doesn't wake up even if an earthquake occurs. Beware heavy sleepers!
My Final Verdict
The Suunto Core watch offers a wide range of features that would be valued by military men currently serving our country. It is a digital watch, and it comes in many different colors such as orange and green. The watch fits nicely on the wrist, and the watch band is switchable, so you have more options for customization. It fits the bill for a military watch based on the guidelines set in my main military watch post.