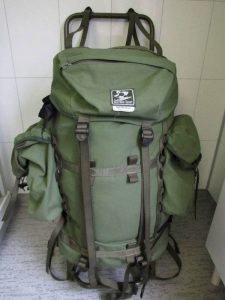 There are many things you have to take into consideration when purchasing a backpack. Depending on what you are planning to use your backpack for like more straightforward uses such as carrying books or a laptop to moving specialized equipment on a military mission or camping trip, there are general factors that you have to look for no matter what type of backpack you are going to buy. You can purchase a backpack from various places like department stores, specialty stores, and online retailers.
The Do's of Buying a Backpack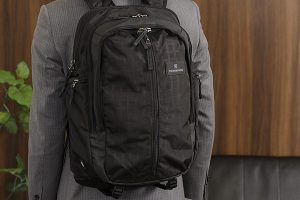 There are five things you should keep in mind when purchasing a backpack.
1. Do Figure Out What Exactly will the Backpack be used for
This may sound obvious, but when looking for a pack, you should be evident in what it will be used for because this determines which type of backpack you will purchase. The person should consider the budget as well. A pack that is meant for carrying around school or work items would not work as a week-long camping trip bag. Having a set budget in mind will help you to make sure you buy the best bag for your buck as you are less likely to overspend.
2. Do Keep the Weight of the Backpack into Consideration
This mostly applies to technical packs. Technical packs can come very streamlined or laden with different pockets and accessories. While the extra accessories and pouches can be incredibly useful, the additional material it takes to construct them can make the backpack heavier. Some bags use lighter materials; however, this tends to drive up the costs of those backpacks. Climbers and Skiers would be one of those groups that cannot do without a lightweight bag. This is because they need a backpack that will not hamper their activity or have pockets that would catch on trees or rocks and cause injury.
3. Do Consider Useful Accessories
Some companies make backpacks with additional accessories, which can turn out to be a blessing or a curse. These can include other digital camera holders, cell phone holders,  hydration reservoirs and water bottle holders. If a particular accessory is useful to someone, then it is a blessing. However, having a ton of different things hanging off of a backpack that is never used can be a curse because of all that extra weight.
4. Do Buy a Pack That Matches Your Personality
Backpacks are made in many different colors and styles to cater to all kinds of preferences. Even if a pack proves to be useful, if it doesn't match up to a person's style, it won't be put to good use. Even technical outdoor backpacks come in different colors and styles. People often affix patches and buttons to the backpack that show off their lifestyle or humorous side.
5. Do Test Out Technical Packs with Weight
Once you have your backpack that is meant for outdoor activities, you should be testing it out with weight in the pack before taking it out on to the field. Pack as you would for your outdoor trip, making sure to get familiarized with the straps and features of the backpack. Once all the gear items are inside the pack, then go out and test the bag in the outdoors. This will let you feel how the backpack sits on the hips, shoulders, and back.
If there are any hot spots or painful areas, then it is best to find it out in your tests than when you are outdoors far away from home. Make sure to test it out with the clothing you would wear when you are going to be using your backpack. Testing out a ski pack that was bought on sale in the summer might not be so comfortable when worn with ski clothing in the winter.
The Four Don'ts of Buying a Backpack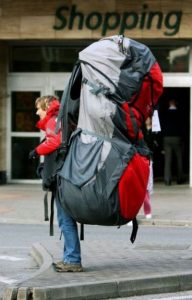 There are some big no no's to avoid when you are choosing your backpack.
1. Don't Buy Larger Than You Need
Technical packs normally state from the manufacturer how much volume can be contained within the pack. The larger the pack, the more likely it will be that a person will fill it. For instance, if you bought a pack designed for week-long hiking trips, you might be tempted to fill it to capacity even if it will only be used for an overnight camping trip. Only if you don't have the budget to purchase multiple backpacks to satisfy all the different activities you participate in, then buying the largest pack makes absolute sense.
2. Don't Buy Pockets "Just Because"
As previously mentioned, some activities may require more streamlined packs. However, even if the activity won't be affected by pockets catching on anything, too many pockets could lead to problems with weight, due to the extra material. A mesh pocket on the outside of the pack that could hold a  water bottle is a handy pocket. In contrast, a separate cell phone pocket might not be as practical and useful and should be avoided. .Once the different features that a user wants are figured out, then he or she can look for a pack that can fit his or her needs perfectly.
3. Don't Necessarily Bring That Fancy Backpack to Work
At the workplace, some backpacks could be considered not professional. For example, a person might want to bring a bright purple pack with political slogan patches attached to it, most people might not find it appropriate, or even worse, may find it offensive. If your budget leaves room for buying both a personalized backpack and a work backpack then definitely go for it. If only one pack can be purchased, then makes sure it is workplace friendly. A conservative work pack can be accessorized with buttons after work to match your style so, in essence, you get the best of both worlds.
4. Don't Forget About Size
If the backpack does not fit properly and most importantly comfortable, you may have purchased a wrong size for your body length. Bags are made in different sizes and width based on your torso length based on this particular reason. Manufacturers each have their specifications of sizes and the torso length they correspond to.  If the size is correct, and the pack still doesn't feel right when testing it out, it would be time for the person to return the backpack and try out a different manufacturer or model.
The following is a table of a small sample of technical backpack manufacturers and a sample of the different types of technical packs they make.
Again, as noted, this is a small sample but should give a good idea of the types and varieties available in the market.
Conclusion
There are some major do's and don'ts when it comes to buying a backpack. A person should set a budget and include the price of accessories in that budget. Don't' get confused by all the different products and accessories out on the market, but rather just get what you really need and want. It is very important to consider the weight of the backpack especially in regards to a technical backpack.
It is okay to pick a bag that fits your style and personality but just be wary if you are planning to take that bag to work. Technical backpacks should be sized properly and tested out with weight and gear in the pack.  Finally, if you are looking for a tactical backpack then you can refer to my guide on Tactical Backpacks.